Speak Media x Star Wars: feel the (content) force
With the recent Last Jedi release, we thought it would be a good time to look back at some of our greatest hits in a galaxy far, far away.
1. Rogue One infographic
This playful take on the Star Wars universe – featuring an amusingly random collection of wacky facts and big numbers – was created for our friends at Premier PR, who handled the DVD release of this stonkingly good film on behalf of Disney. Our designer Paul Richards was definitely feeling the force when he knocked up the brilliantly stylised (and really quite cute) animations – perfect for the target audience of younger fans of the franchise.
2. Force Awakens Special Stamp launch
We came up with a very special set of assets for the 'takeover' of Royal Mail's Special Stamps website, to mark the launch of (you guessed it) a special stamp collection that was published to coincide with the launch of Force Awakens. Our creative campaign included this groovy galactic GIF imploring fans to 'be the 1st' (to own a set of the stamps!).
We also produced 'vinyls' for the fleet of Royal Mail vans:
3. Kickers x Star Wars collection
Our copywriting team produced the copy for this stellar catalogue of special edition Kickers x Star Wars footwear – launched around the time of the Force Awakens – including the brilliantly bonkers 'Stormtrooper Gaiter'. Unfortunately, no 'sample' product made it to our studio, because these boots were in high demand by collectors everywhere and sold out in days (no doubt helped by Jedi-powered e-commerce copy, also produced by our writers!).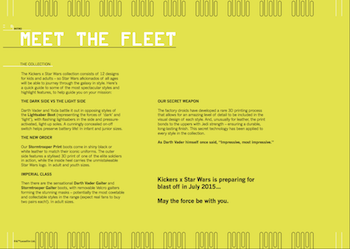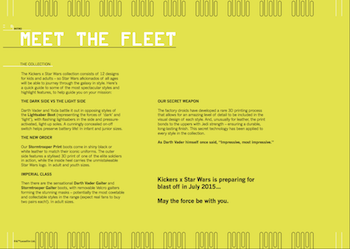 4. Speak joins the rebellion
And finally … no excuse needed to share pics of our fabled team mission to Secret Cinema – which included a mini-pub crawl across London before the main event. In bright orange boiler suits. You're welcome.