Spotlight entrance branding
Inspiring, illustrated refurb for the home of casting
Spotlight has been the home of casting in the UK since 1927. Based right in the heart of London's theatreland, the company's buzzing office off Leicester Square sees the UK's best creative talent flow through its doors every day.
We were given an open brief to completely reimagine Spotlight's main entrance and stairwell, using our storytelling skills and creative content flair to transform an overlooked passage into a space that would inspire visitors and celebrate the UK's extraordinary track record in the performing arts
Collaborating closely with Spotlight, we devised a design concept around the themes that mattered most to the brand: excellence in British performing arts and the experiences of performers and casting directors.
We envisaged a large-scale mural that brought together beloved characters, revered actors, sage wisdom and iconic venues with humour and originality, while referencing Spotlight's core brand elements. We also spoke to Spotlight's clients to get to grips with what it's like to audition at Spotlight – from the watchful eye of the camera taping to the crinkled scripts – and brought these 'behind the scenes' insights into our visual narrative.
Tapping into our network of creative talent, we recruited illustrator Toby Triumph, whose bold and uplifting style made him the perfect artist for the project. The result is a rich and striking original, multi-surface mural that reveals new details every time you go by.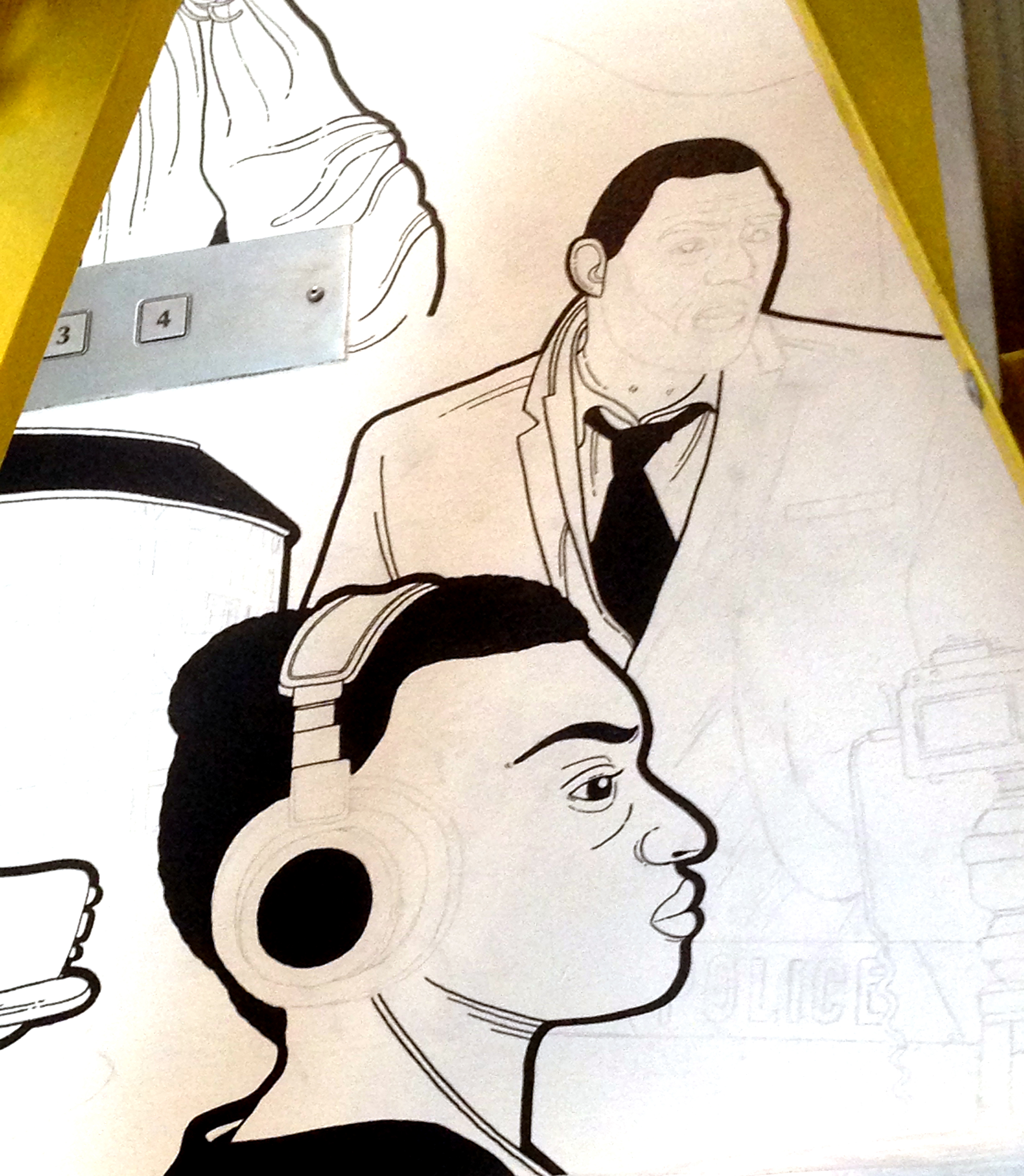 Our illustrated interior – which flows over walls, up stairwells, and even onto elevator doors and ceilings – created a stir from the start, with Spotlight staff and members stopping to watch our team transform the entrance in front of their eyes. Now it's a vibrant and welcoming space that befits the organisation's central role in the performing arts – and one where visitors linger to spot favourite characters, pick out new details and read inspiring thoughts from the greats.
Lauren McKinnon, Marketing Manager at Spotlight, said: "One of the best things is to see the positive response from actors as they enter or exit the building, where they stop to read the quotes or look at the illustrations. We regularly get tweets about how excited they are to be at Spotlight, which is happening a lot more than it did before we did the illustrations."